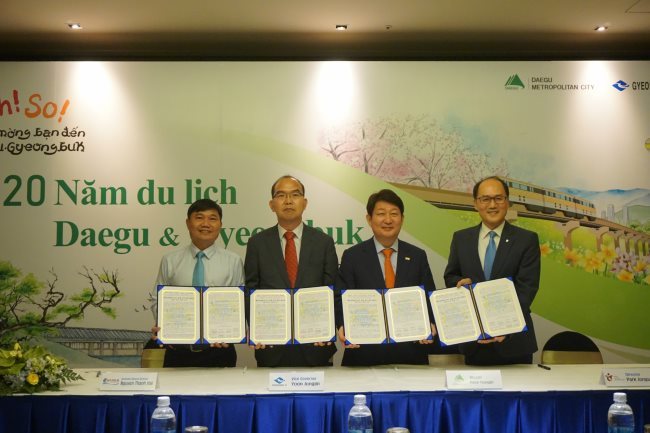 A representative of local travel firm Fiditour (L) and their South Korean counterpart pose for a photo at an MoU signing ceremony on May 21 in HCMC. The Daegu-Gyeongsangbuk-do region expects to attract some 100,000 Vietnamese tourists in 2020 – PHOTO: DAO LOAN
The forecast has followed strong growth in the number of Vietnamese visitors to this country in recent years. Tourism agencies from many popular destinations in South Korea have visited Vietnam to promote tours, including those from the Daegu-Gyeongsangbuk-do region, which expects to attract some 10% of the total number of arrivals.
The Daegu-Gyeongsangbuk-do region will organize a tourism year in 2020 and expects to see a flourishing number of Vietnamese tourists next year, reaching some 100,000 arrivals from the current 2,100, Yong-jin remarked at an event to promote tourism for the region, held on May 21 in HCMC.
The target is based on positive signs in tourism development between the two countries.
In recent years, the number of Vietnamese visitors to South Korea has been surging, and flights connecting Vietnam with the Daegu-Gyeongsangbuk-do region have now been put into service.
In addition, tourism products offered in this region are more distinct from those seen in popular destinations such as Seoul, Jeju or Nami. Also, better cooperation between tour operators and the authorities of both countries will encourage stronger growth in travel activities.
Yong-jin took Taiwan as an example of robust tourism growth buoyed by the launch of direct flights and effective tourism-promotion measures. The number of Taiwanese visiting South Korea totaled 300,000 arrivals last year, rising threefold year-on-year.
As for the local market, an air route linking Vietnam with South Korea's Daegu City was launched two years ago. There are 14 flights operating on the Hanoi-Daegu route, 46 flights on the Danang-Daegu route and eight on the Nha Trang-Daegu route every week.
Most of these flights carried South Koreans to popular Vietnamese destinations, but in the coming years, travel operators will collaborate to attract more Vietnamese to Daegu.
The region has promoted tourism in the local market since last year, including through the HCMC-Gyeongju World Cultural Festival, which was held over 20 days in HCMC and attracted three million participants.
Yong-jin added that representatives of the Korea Tourism Organization in Vietnam, Daegu City and Gyeongsangbuk-do Province would sign agreements with local travel firms, such as Fiditour, Vietravel and Saigontourist, to provide them with information and advertisement costs to launch new tourism products.