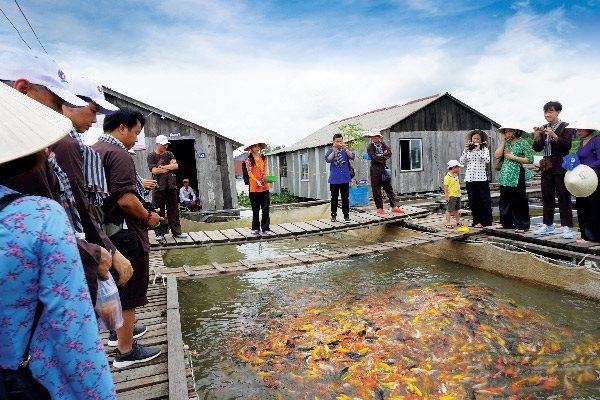 "The streets were deserted then. There were a few hotels with several thousand rooms. The services were poor, but travelers did not complain much because they knew Nha Trang was a new destination," Lan recalled the days.
The long coastline with beautiful white sandy beaches and warm weather are the competitve edge that helps Nha Trang attract foreign travelers.
More travelers have come to Nha Trang, while more and more hotels have arisen, but the infrastructure and services haven't developed proporationally. Many destinations have become overcrowded.
Lan said this is the story of not only Nha Trang, but other destinations in Vietnam as well.
HCMC reported that it has received 4.25 million foreign travelers in the first half of 2019 and a much higher number of domestic travelers. Hanoi received 14.4 million travelers, Quang Binh 8.5 million, Khanh Hoa 3.4 million, Ba Ria – Vung Tau 8.46 million and Kien Giang 4.29 million.

HCMC reported that it has received 4.25 million foreign travelers in the first half of 2019 and a much higher number of domestic travelers. Hanoi received 14.4 million travelers, Quang Binh 8.5 million, Khanh Hoa 3.4 million, Ba Ria – Vung Tau 8.46 million and Kien Giang 4.29 million.

In a special report on tourism development in Vietnam, the World Bank commented that in the last decade, Vietnam witnessed a boom in the number of domestic and foreign travelers.

The number of domestic travelers soared from 20.5 million in 2008 to 80 million last year, thanks to the rapid increase of the middle class.

Meanwhile, the number of foreign travelers in the last 10 years has increased by four times, from 4.2 million in 2008 to 15.5 million last year. The growth rate was especially high in the last three years of up to 25 percent, much higher than the 9 percent average growth rate in 2008-2015.

Vietnam has caught up with Indonesia in number of foreign travelers, and widened the gap between it and Thailand and Malaysia, the countries leading the region in number of travelers.

However, though the number of travelers has increased rapidly, the profit hasn't increased proportionally.

The World Bank cited a report of the General Stastistics Office (GSO) as showing that after reaching the peak of $106 in 2011, the daily average spending level of foreign travelers has begun decreasing, now hovering around$96.

The number of Chinese travelers has increased rapidly, but they have low daily spending. As for domestic travelers, the average spending level has increased, but it has been flat if based on comparative prices with inflation.

%3Futm_source%3Dzalo%26utm_medium%3Dzalomsg%26utm_campaign%3Dzingdesktop&layout=icon-text&customize=true&id=77c96f9f-4adc-4fd7-91ed-d7ec65c64b39&android=false&ios=false" style="position: absolute;">