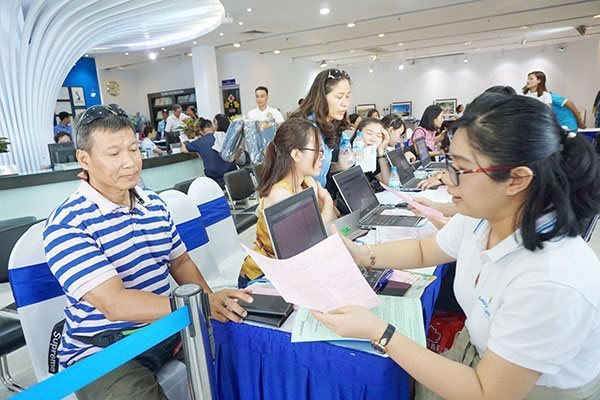 Customers buy tours at a travel firm in HCMC. Travel firms will be fined up to VND90 million and stripped of their business license within 12-18 months if their tourists run away in a foreign country or in Vietnam – PHOTO: DAO LOAN
According to Decree 45 issued by Prime Minister Nguyen Xuan Phuc on May 21, the fine for absconding tourists is equal to fines for employing foreigners as tour guides in Vietnam or for travel firms that lend or borrow licenses.
In the tourism industry, these violations are subject to strict sanctions. The five most serious violations are continuing to operate after the travel firm's license is suspended, after tour operations are stopped or after being stripped of its business license as well as doing business without a business license or using a fake license.
Fines of VND90 million to VND100 million are imposed for each of the five violations. Besides this, offenders will be required to surrender their profits from illegal acts, apart from losing their business licenses for 18-24 months.
The decree, which takes effect on August 1, also addresses violations related to tour guides. If tour guides do not wear accreditation cards while on duty, they will be fined VND200,000-VND500,000 for the least serious level of violations. If foreigners are employed as tour guides in Vietnam, the fines at VND30 million to VND50 million are charged.
In addition, providing tourists with incorrect information on the nation's history and culture is subject to fines of VND20 million to VND30 million.