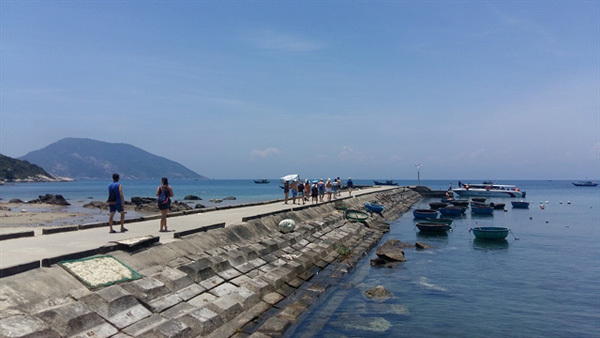 Tourists visit the Cham Islands, off the coast of Hoi An City. The site is one of the most popular destinations in central Vietnam. VNS Photo Cong Thanh
Deputy Prime Minister Vu Duc Dam spoke at the National Conference on Tourism Development in the central province of Quang Nam on Saturday, stressing State agencies, businesses, travel agencies and residents should promote links and efficient co-operation to help the tourism industry overcome the most difficult time after the pandemic.
Dam said the COVID-19 pandemic was challenge, but also a chance for Vietnamese travellers to explore luxury services they hadn't experienced before.
"Tourism service quality in Vietnam had improved in recent years, but it has not yet attained its potential. A series of barriers remain, including traffic, food safety and slow digital transformation, while joint actions among agencies, local authorities, the private sector and State-owned industries in boosting tourism are yet to see rapid change," Dam said.
"COVID-19 is a chance for Vietnam's tourism industry to refresh its quality for domestic travellers and seek potential prosperity in the pandemic deadlock," he said.
"Domestic tourists will be a key source for the country's tourism sector as currently no international tourists and flights are allowed," he added.
Deputy PM also suggested the tourism industry should build a shared digital database to manage and link accommodations, cuisine, destinations and travel services.
Minister of Culture, Sports and Tourism, Nguyen Ngoc Thien, said tourism achieved impressive growth in 2015-19 when the country hosted 18 million international tourists with a 9.2 per cent contribution to the country's GDP in 2019.
However, COVID-19 severely damaged the key sector, causing an 80 per cent decline in international tourist arrivals and a 45 per cent reduction in the domestic market, causing a financial hit of US$23 billion in 2020.
Tran Trong Kien, chairman of the Vietnam Tourism Advisory Board, said tourism would recover its domestic revenue from 55 to 75 per cent if the Government defers debt payments for airlines and travel agencies till the end of 2021.
He said the 50 per cent fee cut should be offered through 2021, while visa exemptions should be allowed for 30 days' travel as well as two or three years' stay for older people from abroad.
Nguyen Quoc Ky, CEO of Vietravel, said corporate income tax should be flexibly adjusted for travel agencies from 10 per cent to six, to ease financial difficulties for businesses during the pandemic.
He suggested the Government should offer conditions to lure two million Vietnamese travellers on tours, and travel agencies will be given tax deductions instead.
He said night tourism services should be given support for resuming operation, as 700,000 cuisine and entertainment service sites nationwide were closed due to COVID-19.
Ky said more domestic flights should be launched to help Vietnamese tourists travel across the country.
He said Vietravel Airlines plans to launch its first flight this December.
The national flag carrier Vietnam Airlines almost resumed its domestic flight network after two waves of COVID-19 in late July, while launching 33 new air routes.
Low-cost VietJetAir carried 150,000 international tourists back to their countries during COVID-19, and domestic flights between June and July increased 35 per cent in comparison with the same period last year.
It said the Hanoi-HCM City route was the busiest flight with nearly 1 million passengers between September and October.
VietJetAir, combined with travel agencies and hotels, also offered promotional fares for family and group package tours.
Tourism agreements was signed by Hanoi and HCM City with five central coastal provinces and cites – Thua Thien-Hue, Da Nang, Quang Nam, Quang Ngai and Binh Dinh at the conference.
Earlier, HCM City inked a deal with nine Mekong Delta provinces and eight mountainous provinces in the north.
Travel agencies also inked 32 contracts at a business matching day on Friday.
Le Van Liem, vice chairman of HCM City's People's Committee, said Hanoi and HCM City will commit to increase the number of domestic tourist visiting the central region by 20 to 25 per cent.
He said at least 5 million tourists from Hanoi and HCM City would flock to coastal resorts and destinations in the central region.
Chairman of Quang Nam Province People's Committee, Le Tri Thanh, said the region had a lot of potential for tourism development with four airports, five sea ports and a 600km coastline.
He said the region also included three UNESCO-recognised world heritage sites, including the Hue Monuments Complex, Hoi An Town, My Son Sanctuary and Cham Island-Hoi An world biosphere reserve in Quang Nam as well as world intangible heritages.
The region also offers sea and islands tour services with pristine white sand beaches stretching from Thua Thien-Hue to Binh Dinh.
Le Thi Giang, deputy director of Hanoi Tourist Corporation, said 85 million domestic tourists in 2019 meant there was significant potential for travel agencies to restructure services in the post-pandemic period.
She said domestic tourists prefer pristine beaches in Da Nang, Hue, Quang Nam, Quang Ngai and Binh Dinh, and the region could be used for long stay tours from three to six days.
During the conference, donors contributed VND38.2 billion (US$1.7 million) to support flood victims in provinces of Quang Nam, Quang Ngai, Thua Thien-Hue, Binh Dinh and Da Nang.