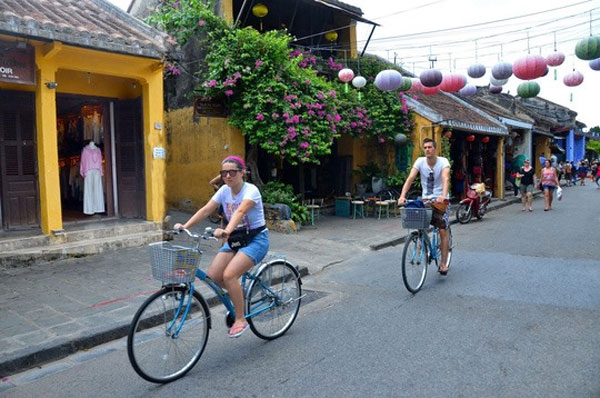 Foreign visitors in Hoi An ancient Town. Tourism promotional campaigns in Vietnam will be boosted with the establishment of Viet Nam Tourism Development Fund (VTDF). — Photo nld.vn
Nguyen Van Tuan, General Director of the Viet Nam National Administration of Tourism (VNAT), said the Ministry of Culture, Sports and Tourism had submitted a project on the establishment of the VTDF to the Prime Minister for approval.
He said the formation of the VTDF, possibly in the second quarter of this year, would solve obstacles in tourism promotions caused by a lack of funding.
The objective of the fund is to boost investment in promotion, product development, training of human resources, and improvement of institutional capacity in the tourism sector, he said.
"The budget for tourism development activities will be between VND400-500 billion (US$17.5-21.9 million) each year, about ten times of current budget. It is expected that together the formation of the fund, the improvement in advertisement approach and organisation will help create breakthroughs for tourism promotion activities," Tuan was quoted as saying in Nguoi Lao Dong (The Labourer) newspaper.
The fund will get an initial budget of VND300 billion (US$13.1 million) from the State and other sources, including 10 per cent of visa fee revenues and five per cent of entrance fee revenues at tourist sites and corporate contributions.
Vietnam spent about US$2.5 million for tourism promotion activities in 2016, a much smaller than that of other regional countries like Thailand, Singapore and Malaysia (about US$100 million).
The key issue in promoting Vietnam as an attractive tourist destination was the resources allocated to agencies involving in promotion. Tuan said the establishment of the fund would be a positive step for the tourism sector.
Statistics from the General Statistics Office (GSO), in the first three months of 2018, revealed the number of international visitors to Vietnam increased sharply with 4.2 million, up 30.9 per cent over the same period last year.
This is a positive sign of the tourism industry, after the country welcomed nearly 13 million international visitors in 2017, up 29.1 per cent over 2016.
Vietnam has set the target of receiving between 15 and 17 million international visitors this year. The tourism industry is implementing many solutions, including the formation of the VTDF to increase financial resources for tourism development activities.
According to Nguyen Quoc Ky, Director General of Vietravel Travel Company, once the VTDF is formed, a master plan to determine the best ways to implement and allocate the budget appropriately is a must. At the same time, tourism promotion agencies should be set up abroad, especially at key markets to effectively carry out programmes on promotion Vietnam's images. These agencies would also be in places that visitors could receive support before and after traveling to Vietnam.
"It is necessary to focus promotions on potential markets, studying to find out which market is attractive, and tourists can stay longer. A national tourism brand should be built promptly in order to concentrate promotion resources on this year's orientation and focus on tapping the culinary culture and turning it into a Vietnamese tourism brand," Ky said.
In addition, one of the issues concerning businesses after the Viet Nam Tourism Development Fund is established is how to generate funding and how will the funds be managed, he said.
The problem of how to provide more resources to promoting Vietnam as a "must visit" destination for international travelers was also a matter for them.
Source: VNS