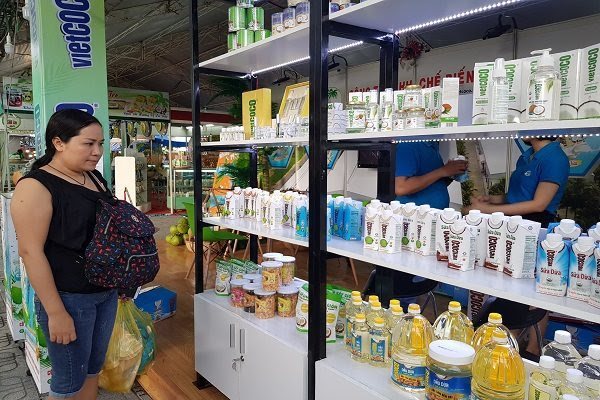 A visitor looks at coconut products on display at the fifth Coconut Festival in Ben Tre in 2019. The tourism industry should be developed in a sustainable and responsible manner
Nguyen Van Luu, former head of the Personnel Organization Department, under VNAT, highlighted the importance of responsible and sustainable tourism at a seminar held on November 17 in the Mekong Delta province of Ben Tre.
The event is aimed at seeking solutions to promote tourism in Ben Tre through cooperation with other localities in the delta.
Responsible tourism, according to Luu, is a new approach in managing tourism to minimize the negative impact of tourism while increasing its positive impact on each destination's economy, society and environment.
Responsible tourism is considered successful when it creates higher incomes, more satisfying jobs and enhanced amenities for a destination, he added.
During the process of tourism development, each locality has to mobilize various sources to develop tourism facilities appropriately to meet the rising demand among tourists and ensure socioeconomic and environmental responsibility, the VNAT representative stressed.
He also noted that the development of tourism facilities should focus on three main factors: ensuring practical, long-term economic benefits for the involved parties; adopting modern features but still respecting local cultural and social values; and leveraging resources, particularly tourism and human resources, at each locality.
To promote tourism growth, a representative of the Department of Culture, Sports and Tourism of Dong Thap Province suggested local authorities in the delta work out policies to promote infrastructure development, mobilize and utilize all resources effectively and increase investment in the industry to consolidate its position as the key driver for growth.
Besides this, marketing campaigns should be taken into account to build the local tourism reputation, while tourism manpower must be trained and equipped with in-depth knowledge in the field.
Further, it should be recognized that the tourism environment needs further improvement, such as ensuring a clean and safe environment, building a standard restroom system to serve tourists and listing the prices of tourism products and services and offering them as listed, the representative from Dong Thap said.