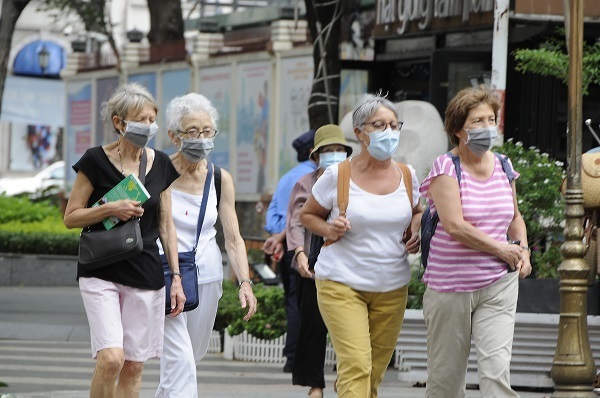 However, Covid-19 offers an opportunity to reconsider the tourism market structure.
Vietnam relies heavily on the northeastern market (China, Japan, South Korea and Taiwan) which brought 67 percent of total foreign travelers in 2019.
In 2015-2019, Chinese and South Korean travelers to Vietnam increased by 34-40 percent. The two markets alone brought 10 million last year out of total 18 million foreign travelers.
Meanwhile, travelers with high spending levels accounted for a small proportion. Travelers from European countries accounted for 12 percent, from the US 5.4 percent, and Oceania 2.4 percent.
The heavy reliance on certain markets leads to huge losses when troubles like Covid-19 occur. In some localities, the increase in number of Chinese travelers is inversely proportional to the growth of European and Japanese travelers. The sharp increase caused overloading in some destinations, putting pressure on local infrastructure and environment.
VNAT said the number of foreign travelers with high spending and long stay is still modest. This explains why in some segments the number of travelers is high, but revenue is low.
Foreign travelers stayed in Vietnam for 8.1 days on average in 2019 and they spent an average of $1,074. Meanwhile, foreign travelers stayed for nine days and spent $1,565 for each trip in Thailand.
That was why the total number of foreign travelers to Vietnam in 2015-2019 increased by 22.7 percent, but the total revenue rose by 20.9 percent only.
Phung Quang Thang from Hanoitourist said at the conference discussing tourism market restructuring on November 19 that it's the right time to change strategies and choose foreign travelers with higher quality and higher spending.
There are many potential markets that Vietnam should consider.
According to Ngo Minh Duc, chair of HG Holding, the number of Indian travelers has increased rapidly since non-stop flights were first provided. Three or four Indian airlines are queuing to fly to Vietnam.
Duc revealed that about 300 chartered flights from India to Vietnam, slated for March and April 2021, are awaiting licenses.
Tran Minh Hoa, Vice Rector of the University of Social Sciences and Humanities, noted that European travelers to Vietnam are mostly from North Europe, while East European markets have great potential. Therefore, restructuring the market is a necessity.

Foreign travelers stayed in Vietnam for 8.1 days on average in 2019 and they spent an average of $1,074. Meanwhile, foreign travelers stayed for nine days and spent $1,565 for each trip in Thailand.
Thang of Hanoitourist predicted that the market of foreign travelers will only recover in 2022-2024. In the immediate time, Vietnam should target the near markets of Northeast Asia, Southeast Asia and India. When Vietnam opens the market fully, it needs to target markets with high spending capability and sustainability, such as Europe, the US and Australia.
Attracting domestic travelers
While domestic travelers account for 82 percent of total travelers, 4.7 times higher than foreign travelers, they only bring 44.3 percent of total turnover.
The aim is to increase spending on shopping, entertainment and non-tour services of both domestic and foreign travelers, and the proportion of revenue from domestic and foreign travelers from 44.3/55.7 percent currently to 55/45 percent and to 60/40 later.
Nguyen Minh Tam from Vietnam Airlines said to restructure the domestic market, it's necessary to understand it well.
Before the pandemic broke out, many Vietnamese travelled abroad, about 9-10 million travelers a year. There is no exact figure about the amount of money they spent during the trips.
Tam said it is necessary to conduct surveys and analyze behaviors, and spending level of travelers to draw up plan to attract Vietnamese back to the domestic tourism market.
He also suggested drawing up strategies to attract travelers to new destinations, saying that Vietnam still has many beautiful undiscovered sites.
According to Thang, the number of domestic travelers fell from 84 million last year to 50 million this year. As all tourism firms are now targeting these travelers, they have had to slash tour fees to levels 'which cannot be lower'.
Therefore, travelers will choose tours with differences and high quality. This requires travel firms to be more creative in designing tours and providing services.