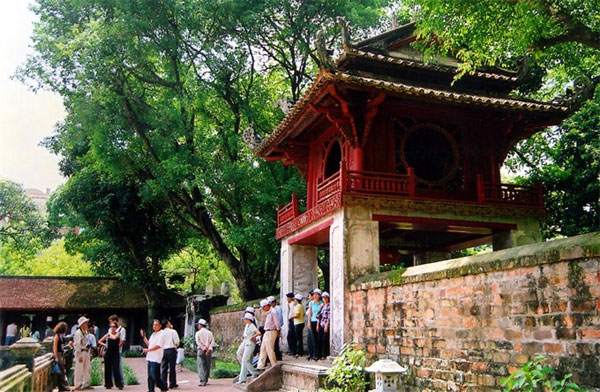 Welcoming the masses: Tourists visit the Temple of Literature in Ha Noi. — VNA/VNS Photo Anh Tuan.
The plan includes eight core objectives aimed at including the public in the sector's development and promoting the image of Viet Nam and its people to the international community. It will also require the sector to make various adjustments in order to better adapt to the global market, especially localities with great potential for tourism. Provincial governments were tasked with reviewing their tourism strategy and marshalling all available resources to boost the sector's development.
Central government agencies were urged to speed up the implementation of the country's Law on Tourism, which encourages investment in the sector, and to improve the country's human resources in the tourism industry. The plan also stresses the importance for the agencies to enact administrative reforms, in order to facilitate the implementation of major tourism projects across the country and to simplify the country's existing immigration and investment laws. Such reforms will help fuel future growth in the industry, the plan suggests.
Stronger infrastructure, the plan says, will provide a foundation for the tourism industry's continued growth. Numerous projects are including highways, seaports, airports and railway are to be completed in the next few years.
The country will continue its "open air" policy and freedom of the air, which allows domestic and international airline companies to easily establish new air routes and better ultilise existing ones. The plan also places great importance in solving bottlenecks and overcrowding at Viet Nam's airports, which has become an increasingly alarming issue in recent years.
Government agencies were asked to coordinate efforts and to implement new information technology to improve Viet Nam's international tourism brand recognition and positioning.
The plan also emphasizes the government's commitment ensure security, fairness and transparency in tourism activities. Tourism enterprises are encouraged to innovate and diversify their products and services, especially in promoting the country's cultural heritage and numerous handicraft villages.
Ha Noi golden route
The Vietnam Fine Arts Museum, Centre of the Temple of Literature and Hanoitourist yesterday introduced a joint tourism product, which offers a tour of the capital city's historic culture of learning and appreciation for literature.
After visiting the temple, visitors will have a chance to learn more about Vietnamese learning culture with a tour of the Vietnam Fine Arts Museum. Exhibitions may help visitors understand better the Vietnamese people's undying desire to learn.
Tourists may also visit other major historical landmarks including the Old Quarter, Dong Xuan Market, Ho Chi Minh Compound, Thang Long Citadel and various museums across the city.
The capital city welcomed nearly 18 million visitors in the first nine months of 2017, a 22 per cent increase over the same period last year. Revenue from tourism was estimated at VND53 trillion (US$2,33 billion), according to the city's tourism office, making it one of the largest contributors to the city's economic development.
VNS