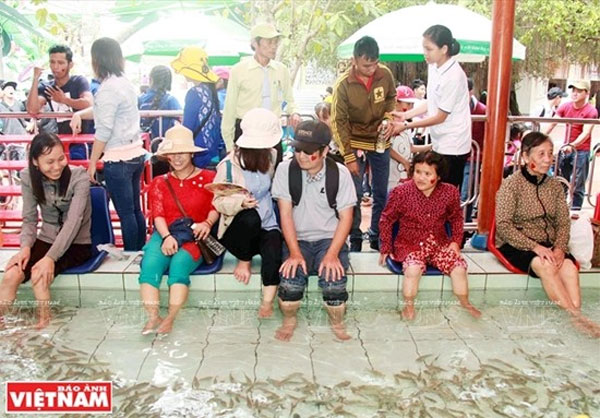 The tourism sector also needs to follow regulations to ensure accessibility for disabled persons.— Photo Vietnam Pictorial
Accessible tourism, which attempts to guarantee access to all tourist destinations and services for all people regardless of their disabilities or age, according to the World Tourism Organisation under the United Nations (UNWTO), remains a fairly new concept in Vietnam but is gradually gaining momentum.
Do Cam Tho, deputy head of tourism department under the culture ministry, says in most developed countries, public infrastructure includes features to ensure ease of use for people with disabilities, such as lifts in train platforms, grab rails in bathrooms and auditory and visual signals to help deaf-blind people at pedestrian crossings.
Accordingly, the tourism sector also needs to follow regulations to ensure accessibility for disabled persons. Tourist operators have large-sized busses designed to accommodate wheel chair users and tourist destinations are equipped with facilities to serve the disabled.
However, in Vietnam, these features are sorely lacking. Accessibility for disabled persons is not taken into account in typical design or construction process. For example, most destinations still use staircases instead of sloping lanes or a separate lane for the disabled, buses do not have a lift system for less mobile persons and there is a lack of tour guides who have undergone training to assist the disabled.
She also points out that the majority of disabled persons in Vietnam are in the low-income group and will only be able to afford cheap tours, which strip most accessibility features to cut costs.
One recent initiative is building a website on accessible tourism for Vietnamese disabled persons. The "For a bright future" group under the Ha Noi Association of Disabled Persons is in charge of the project, with partial funding from Finland's Abilis foundation.
Via the website https://dulichtiepcan.com/ and the Facebook page https://www.facebook.com/dulichtiepcan, people with disabilities can look up information and details of the tourist destinations so they can actively plan ahead.
The website features information on 22 tourist destinations, eight hotels and seven restaurants in Hanoi and transport hubs such as Noi Bai international airport, Hanoi train station and a number of bus stations. The website also features several useful addresses where people with disabilities can ask for counselling before their trips.
The group also gives feedback, which is welcomed by the operators of the listed sites in a bid to continue improving accessibility features to the disabled persons. The initiative is a humble beginning to what will be a long effort to make tourism truly an inclusive and accessible experience for all.
Handicap's products
Aside from making tourism accessible, Vietnam can also increase the role of people with disabilities in tourism by promoting their products to tourists.
A good example of the promotion of crafts made by people with disabilities is the various stops along the popular Hanoi – Ha Long route, where shops specialised in crafts and jewellery have been set up to catch the attention of the large volume of passengers passing by each day.
However, aside from few centres that are capable of producing high-quality products with high artistic value, the majority of these businesses only produce souvenirs of little value that cannot compete with other products on the market, while the sale of handicrafts is largely dependent on the customers' sense of charity.
Social centres have started to recognise the shortcomings of the craft sales model and provided disabled persons with training courses on the making of more sophisticated and higher value products such as oil painting or jewel painting, and even products of foreign origin such as origami papercrafts, Matryoshka nesting dolls, clay flowers and others.
Only a few of the main sales points for crafts by people with disabilities – traditional markets, night markets and malls – manage to capture the interests of tourists, which makes it necessary that the craft businesses co-operate with hotels and tourist operators to showcase the products to tourists or to introduce these products in various other destinations.
Do Cam Tho, tourism official, says that tourism has evolved and Vietnam needs to keep up with the times. In the 1970s and 80s, beachside resorts were all the rage. In the 1990s and 2000s, the trend was cultural visits. Currently, tourists are seeking immersive experiences in which they can directly participate in local lives and activities – therefore, this type of tourism must be promoted.
The craft businesses of people with disabilities and local tourism authorities need to take market research seriously to identify what's favoured by tourists to plan their production. The businesses are also advised to pay more attention to the design aspects of the products, including packaging, Thơ says, adding that those businesses that open their workshop to tourists must also ensure a clean and comfortable environment for tourists to sightsee and talk with the disabled craftsmen.
Nguyen Van Hoi, head of the department for social protection under the labour ministry, says that every year, Vietnam receives around 10 million tourists from overseas and 70 million domestic tourists. "If everyone feels willing to shell out just a few dollars to buy craft products made by people with disabilities, the revenues could reach up to a dozen of million dollars," he says.
Tourists buying products and visiting the workshop of disabled persons can be a viable and practical form of tourism to help ensure their stable livelihoods.
Source: VNS