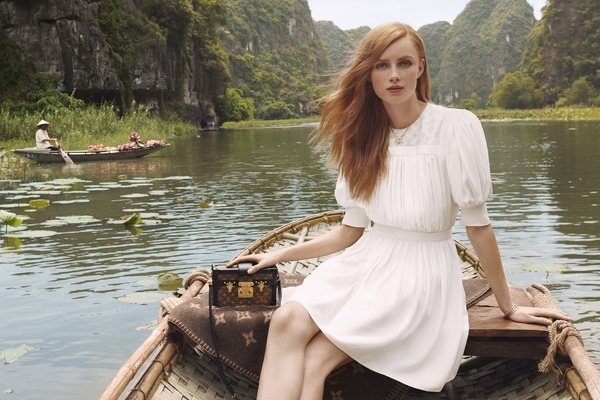 The scenery of Trang An Landscape Complex in Vietnam's Ninh Binh Province featured in Louis Vuitton advertisement
Some of the most stunning scenic spots in Vietnam, including Ha Long bay, Sa Pa, Ninh Binh, and Hoi An, have been featured in the campaign.
Through exquisite and luxurious camera shots and angles, Louis Vuitton's products stand out and blend into the spectacular serenity of Vietnam's landscapes, creating unexpectedly favourable impressions on viewers.
These images have received many compliments from the online community around the world, who are captivated by the peaceful and magical charm of Vietnam.
According to tourism experts, that Louis Vuitton having decided to feature Vietnam's famous destinations, including UNESCO World Heritage sites, in the backgrounds of its promotional video has indirectly contributed to advertising Vietnam's scenery among high-class and high-spending tourists.
From the marketing perspective, the effect from this interesting combination has once again shown that vivid videos and images are one of the effective advertising channels to promote the national tourism brand.
At the same time, it suggested a new means of cooperation that our hospitality sector needs to pay more attention on.
Looking back at the last century to the 1990s when French films, including the 1992 films entitled L'amant (The Lover) and Indochine (Indochina), hit the big screen, they brought about big wows among audiences with the captivating beauty of Vietnamese land and its people.
Most recently, the debut of the blockbuster Kong: Skull Island, which was shot in many locations in Vietnam's Ninh Binh and Quang Binh provinces, has contributed to promoting Vietnam on the world tourism map.
Domestically, the resounding success of films 'Toi Thay Hoa Vang Tren Co Xanh' (I See Yellow Flowers upon the Green Grass) and 'Chuyen Cua Pao' (Pao's Story) has contributed to making Phu Yen and Ha Giang provinces truly become more alluring among travellers.
Obviously, the liveliness of videos not only brings success to the producers, but also helps to attract strong attention of tourists.
It is also a sound low-cost way to promote Vietnam's tourism since the funds for marketing campaigns are scanty.
However, the tourism sector should not passively wait for international film crews or world-renowned brands to come up with ideas on their own but needs to actively plan cooperation with them instead.
For example, the hospitality sector can join hands with the film industry to boost Vietnam's tourism through film projects. It is also necessary to work out preferential policies and simplify licensing procedures to attract international filmmakers and renowned brands to come to Vietnam without compromising the value of destination and landscapes.
The cultural sector also needs to produce films feature the land and people of Vietnam, which should be presented at international events in order to raise the country's image in the world.