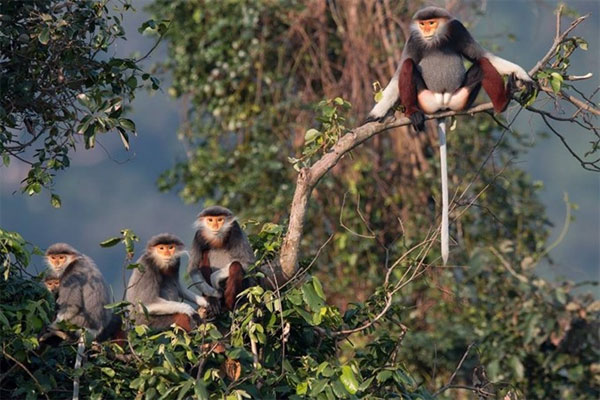 A family of endangered red-shanked douc langurs (Pygathryx nemaeus) at the Son Tra Nature Reserve in Da Nang. National parks and nature reserves have been urged to develop eco-tourism in the central and central highlands regions. — Photo courtesy GreenViet
Lanh, speaking at a conference in Da Nang on biodiversity conservation and sustainable development in the central and central highlands regions last weekend, said just 61 out of the country's 167 nature reserves had developed eco-tourism services in line with sustainable development goals. Slow planning and poor long-term strategies by State agencies and local administrations had left sites of rich biodiversity facing an uncertain future.
He stressed that many tourism services in nature reserves were not actually eco-tourism. Often, tourism merely serves to make money through entrance tickets and guide fees.
"It's not eco-tourism. That's mass tourism or over-tourism at the reserves, as most visitors just come to the sites for new adventures or a change from noisy urban life rather than for an understanding of nature and biodiversity," Lanh said at the conference.
He said it seemed economic growth was the top priority, not conservation of biodiversity.
"They [local governments] often planned mass infrastructure, expressways, cable car systems, a series of giant hotel or resort projects or mass transit to serve numerous tourists in the future," he said, adding that local leaders and planners focused on drawing as many tourists as possible while disregarding environmental protection.
Lanh pointed out that some projects had resulted in the destruction of nature or changes to local lifestyles, such as the cable car systems to Fansipan Mountain in Sa Pa Town of Lao Cai Province, at Ba Na Hills in Da Nang and on Phu Quoc Island. He also criticised the potential cable car route in Son Doong Cave, the UNESCO-recognised site in Quang Binh Province.
According to a report from the special use forest management agency under the Ministry of Agriculture and Rural Development, nature reserves and national parks hosted more than 2 million tourists in 2017, marking 178 per cent growth in comparison to 2016. The tourism brought in total revenue of VND114 billion (US$5 million), but only VND9 billion ($400,000), or 8 per cent, was returned to biodiversity conservation.
Nguyen Minh Dao, from the national Forestry University in Hanoi, said environmental protection of nature reserves and national parks, which are managed both by central government agencies or local administrations, had been undervalued in the cost of tourism services, with only about 1 or 2 per cent of a ticket price being used for environmental protection.
He said low environmental payments did not encourage the participation of the community in environmental protection.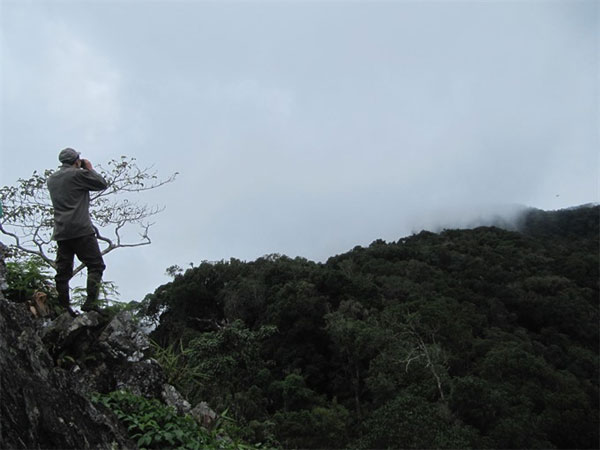 Kon Ka Kinh National Park in Gia Lai Province. The park is a favourite site for eco-tourism development.— VNS Photo Cong Thanh
Dao said the central and Central Highlands regions have strong potential for eco-tourism development with 66 nature reserves (1.48 million hectares), or 58.7 per cent of the country's forest area, but the poverty rate is 1.3 times higher than the country's average.
He said the development of eco-tourism at nature reserves and parks in the region will require a change in attitude among provincial leaders, as well as among State tourism workers at the reserves.
He suggested unique eco-tourism services for each national park and reserve tailored to its biodiversity features, and a network of national parks with the participation of the community in planning and protecting the forest.
Associate Professor Yoshida Yamamoto from St Agnes' University shared Japans' experiences in sustainable tourism and nature conservation through promoting eco-tourism.
She said the promoting eco-tourism requires the preservation of certain businesses, residents, non-profit organisations and experts on natural tourism resources.
Dr Miki Yoshizumi from Ritsumeikan University shared a case study on eco-tax in eco-tourism development in Spain's Balearic Islands.
She said the islands, where the number of visitors increased from 3 million to 13 million between 2010-16, introduced a new environmental tourist tax on visitors in 2016. The tax brought huge revenue and almost all the money went to the Natural Restoration Fund on the island.
Miki suggested an eco-tax could be one of the potential methods for the Son Tra nature reserve to control the use of natural resources on the basis of the user-pays or polluter-pays principle.
Vu Duc Gioi, from the National Yok Don Park, said cooperation between the park and AsiaAnimal organisation yielded a sustainable tourism service by changing the elephant riding service into a tour to feed and care for the elephants at the park.
He said elephants living in the park now have been released from the rope and metal chains that covered their feet.
Threats
Nguyen Quoc Dung from the Institute of Forest Survey and Planning said Son Tra Nature Reserve was poorly managed. Responsibilities overlap between defence agencies, rangers, local administration and tourism service providers and administrators.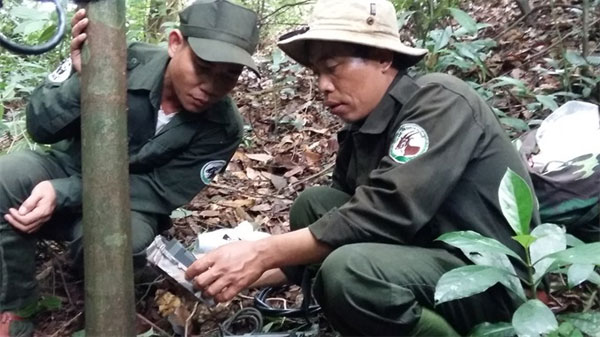 A ranger at the Sao La Nature Reserve sets up camera traps to track wildlife in Thua Thien-Hue Province.— VNS Photo Cong Thanh
He suggested Son Tra Nature Reserve in Da Nang be combined with a vast area of special-use forest of South Hai Van and the water area of Son Cha Islet into a strictly protected area under the management of one agency.
According to director of Da Nang-based Centre for Biodiversity conservation, GreenViet, Tran Huu Vy, the biodiversity of the reserve has been under threat after the Viet Nam National Administration of Tourism announced a plan to develop the nature reserve as a national tourism site and an upmarket ecotourism resort complex by 2030. The plans include 1,920 villas, 24 bungalows and 1,600 luxury hotel rooms to accommodate 300,000 tourists.
The reserve, which had already shrunk from 4,439ha to 2,500ha to accommodate resorts and hotels between 1977 and 2014, would have to give up another 1,056ha for the new luxury tourism complex.
Up to now, 18 out of 25 hotels and resorts on Son Tra Mountain have been approved by the city, on a total of 1,220ha.
The reserve, 10km from Da Nang, is unique in Vietnam and the world, with its biodiversity ranging from primary forests to ocean dunes, with more than 1,000 plants and 370 animal species.
Le Ngoc Thao, from Cham Island, a world biosphere reserve site off the coast of Hoi An City in Quang Nam Province, shared experiences from the successful management of tourism and conservation on the island.
He said the island hosted 400,000 tourists in 2017 with revenue of VND25 billion ($1.1 million), but 48 per cent of the revenue was used for nature restoration and marine protection.
Thao said the island had banned plastic bags, classified garbage at the source, established areas where fishing is prohibited and set an allowance for the fishing season between April and July.
But he worried that tourist property projects now in development on the island will damage the environment.
Thao said a resort project was granted an investment licence in 2003, six years before the island was recognised as the world biosphere reserve site in 2009. The investors have been building the resort under the old licence, neglecting to adjust to new development restrictions as a result of the island's recognition as a biosphere reserve.
He said a helipad had been planned for the resort in 2003 before the island was recognised as a world biosphere reserve, something that would not be allowed for construction in such a site. Yet the investors kept it in the construction after the recognition anyway, disguising it as T-shape bridge.
The conference, which was held in co-operation with the city's Union of Science and Engineering, PanNature, GreenViet and the Environment and Biological Resource Teach Research Team of Da Nang College of Teachers, showcased 21 scientific reports on eco-tourism development at national parks and nature reserves.