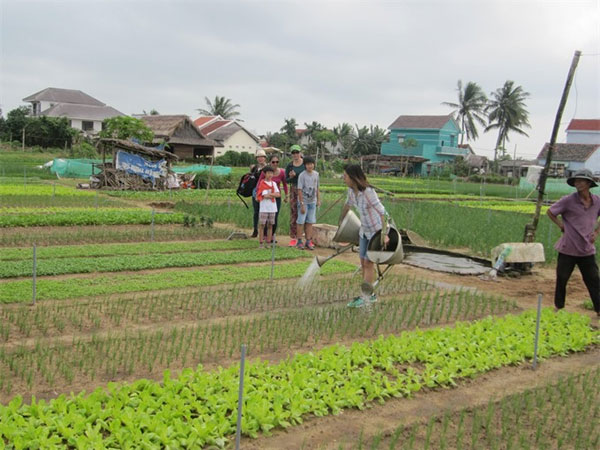 Farming tips: Tourists enjoy farming skills at Tra Que herb farm tour service in Hoi An Town. The vegetable village has seen as the most successful combined model of agriculture and tourism. 
Officials say a lack of planning, strategy and training is holding the idea back.
So says Nguyen Quy Phuong, an official from department of tourism under the Viet Nam National Administration of Tourism (VNAT), during a seminar in sustainable eco-tourism and agriculture and rural development
Phuong said agri-tourism would help local farmers preserve their traditions and culture, while improving the income and living standards.
He said with 70 per cent of population living in rural areas, the new 'green' industry would have rapid growth.
"Local farmers could use their produce and production as a craft demonstration to tourists, while earning more from tourism service beyond than the harvest itself," Phuong said.
Phuong said the agri-tourism in Vietnam still needed a master plan and positive support from relevant agencies as well as connections among communities and locals in boosting the 'green' industry.
He said agri-tourism had been successful in Thailand, Japan and Taiwan, but it was still a new concept here.
Vice director of Quang Nam Province's Culture, Sports and Tourism department, Le Ngoc Tuong said agri-tourism would be a solution in easing overloaded tourism in some destinations in the coming years.
"Suburban in Hoi An including Tra Que vegetable garden, Thanh Ha pottery village, Cam Thanh nipa-palm village, white corn farm in Cam Nam Village and carpentry Cam Kim Village developed in Hoi An Town," Tuong said.
"However, three of five villages in Hoi An had the same agri-tourism product such as Tra Que, An My and Thanh Dong – offering vegetable farming demonstrations and cuisine," he said, adding that visitors come to the three villages with the same service (learn how to grow vegetable and enjoy cooking).
He suggested that it needed a positive co-operation between the ministries of agriculture and rural development and VNAT in building key samples and standards for synchronised development in the near future.
He said agri-tourism also needed huge investment in infrastructure, brand promotion and information technology.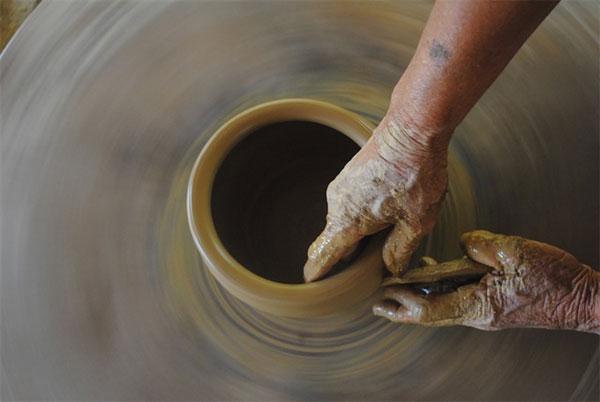 Potty for pottery: Pottery in Quang Nam Province is an interesting experience among tourists. — VNS Photos Cong Thanh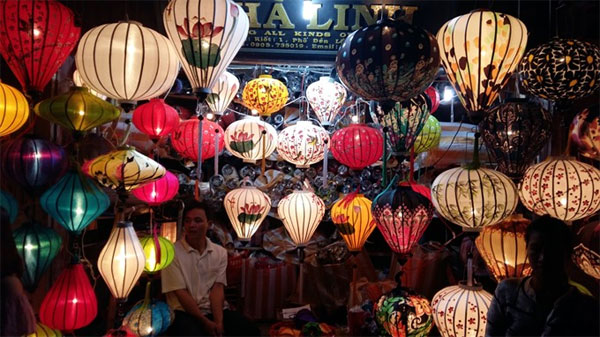 Lighten up: Lantern making lures tourists in exploring the craft history and making skills in Quang Nam Province. 
According to the latest report, Quang Nam welcomed more than six million tourists in 2017, 2,8 million foreigners. That's a massive 85 per cent growth in comparison to 2016, earning VND9.2 trillion (US$407 million).
Director of Da Nang city's Department of Agriculture and Rural Development, Nguyen Phu Ban said Da Nang has developed 150ha organic rice farm and hi-tech vegetable gardens in suburban districts, but agri-tourism has yet promoted, even the city welcomed 6.7 million tourists in 2017 with a revenue of VND19 trillion ($840 million).
Only 4,000 local visitors came to the organic vegetable farms in districts of Hoa Vang, Cam Le and villages of Tuy Loan, La Huong and Hoa Khuong, he said.
He said agriculture has yet joined in with other tourism projects.
Phan Xuan Thanh, from Emic Hospitality Hoi An travel agency, said farmers had to live well from their trade first, while tourism service would be an added income.
"Agriculture is a base in the agri-tourism model and sustainable development in the future. Tourism will help farmers preserve their crafts, land and livelihood as well as rural lifestyle that they inherited from generations," Thanh said.
He said tourists would pay much more than resorts service if they really enjoy rural life and practice farming skills with local farmers as well as community lifestyle and culture.
Pham Ha, CEO and founder of Luxury Travel Company, said tourists really want to explore local lifestyles during their visit.
They come to Vietnam to understand how farmers grow rice and cook from farm produce, and they even cook themselves after a daily life on farm experience tour service, Ha said.
"Many locals and provinces did the same product. Each province should build their own unique agri-tourism product, while VNAT should create a standard model at each local that base on potential farm product in developing a diversity of agri-tourism service," Ha added.
He added that this would help farmers create their own beautiful rural scenery and a clean environment.
While waiting for positive measures offered by VNAT and Ministry of Agriculture and Rural Development, farmers at some locations still do their own way of agri-tourism service to improve their income.
More than 200 households living in Tra Que vegetable garden – one of the most favourite site in Hoi An, earn VND500,000 ($22) each day from tourism and cooking service at herb farms.  Each household in Tra Que also earn $22 more from supplying 30kg of fresh vegetable to local market each day.
Source: VNS