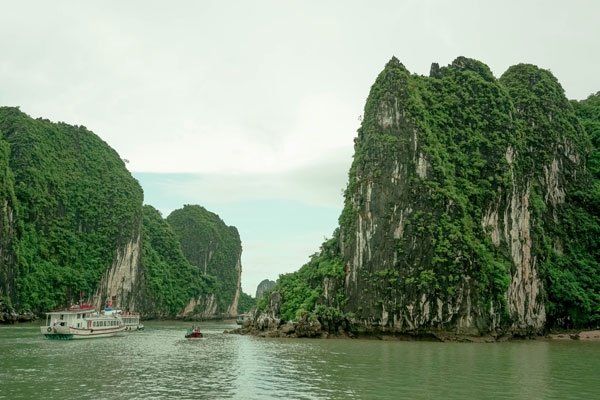 A view of the World Heritage-listed site of Halong Bay in Quang Ninh Province 
In an article released by the travel site at www.roughguides.com, foreign tourists and those embracing an overwhelming passion for traveling and adventure tours are advised to spend a little time dropping by the fast-rising Southeast Asian country which has been ranked seventh among the world's 20 fastest-growing travel destinations, according to a report by the United Nations World Tourism Organization (UNWTO).
The site highly appraises Vietnam's astonishing and bizzare rock formations in the UNESCO-recognized World Heritage site Halong Bay in Quang Ninh Province and the endless beauty of terraced rice fields in the mystical mountainous town of Sapa as a nature-endowed priceless treasure, making the country worthy to be on the list of the world's 20 most spectacular destinations.
This is not the first time these sightseeing spots have heaped praise from popular foreign travel sites and international community.
Earlier, Sapa Town in the northern upland province of Lao Cai has been listed as the best choice for a wonderful vacation of the year by TripAdvisor users while the U.S. travel site www.thrillist.com recommended it as a must-see place for tourists to indulge themselves in cool weather all year round, witness the spectacular terraced rice fields and poetic valleys, and explore the diverse cultures of ethnic minority groups.
Meanwhile, the UNESCO-listed Halong Bay took 43rd position among the world's top 50 natural wonders voted by readers of the U.S. news site CNN thanks to its untouched beauty of karst limestone rock formations that have been carved by sea winds, sunshine and time into eye-catching shapes, Vnexpress reports.
Halong Bay is famous for its 2,000 magnificent limestone islands and numerous caves and grottos. The wonderful bay has been twice recognized by UNESCO as a natural world heritage site in 1994 and 2000, and was also named one of the Seven Natural Wonders by the New7Wonders Foundation in 2011.
Vietnam holds its big pride for pristine and stunning beaches and islands, mysterious caves, cool weather and diverse regional cuisines, making it a heaven for huge numbers of foreign tourists and contributing to boost the country's tourism industry.
Last year, the country earned total tourism revenue of VND400 trillion (around US$17.7 billion), with more than 10 million foreigners visiting the country. International tourist arrivals to the country in the first half of the year surged 30.2% from the year-ago period to 6.2 million, according to data of the Vietnam National Administration of Tourism (VNAT).
Especially, the country is rolling up its sleeves to offer visa exemptions for citizens in major source markets such as Asia and Europe in an effort to bring in more foreign travelers in the coming years.
SGT