HCM City Party Secretary Nguyen Thien Nhan speaks at the event
A forum on boosting HCM City-Mekong Delta region tourism connectivity was held in HCM City on Thursday with the participation of HCM City Party Secretary Nguyen Thien Nhan and representatives from 13 Mekong Delta cities and provinces.
According to Nhan, HCM City has co-operated with some southwestern localities for tourism development, but there was limited efficiency.
Nhan said it is necessary to set up a council for HCM City and Mekong Delta tourism development, including official representing the localities and travel firms.
The Mekong Delta has many cultural and historical sites, including those nationally-recognised, which need to be promoted more widely.
The Mekong Delta region should work out a tourism plan, including a general brand for the promotion.
At the event, Deputy Prime Minister Vu Duc Dam supported the HCM City-Mekong Delta connectivity for tourism development. He highlighted the significance of taking advantages of high technology in tourism services.
He also advocated the establishment of the inter-regional tourism council as proposed by Nhan.
According to Nguyen Dong Hoa, Deputy Director General of the HCM City-based Saigontourist Holding Company – an operator of many trans-locality tours, about 70% of the firm's foreign visitors to HCM City said they wanted to continue their trips on to the Mekong Delta.
Hoa mentioned the necessity for HCM City and Mekong Delta localities to define their special tourism products to lure holidaymakers.
Cao Xuan Thu Van, Director of the Culture, Sports and Tourism Department of Bac Lieu Province, said many Mekong Delta cities and provinces are striving to develop their unique tourism products, like spiritual tourism in An Giang, waterway tourism in Can Tho, and tours of economic facilities like wind power plants or hi-tech shrimp farms in Bac Lieu.
On this occasion, the Mekong Delta region also called on investors for 128 culture, sports and tourism projects, including a mangrove ecological park project in Tra Vinh Province, an ecotourism zone project on the Tan Loc river islet in Can Tho City.
Vietnam seizes huge potential for solo travel exploitation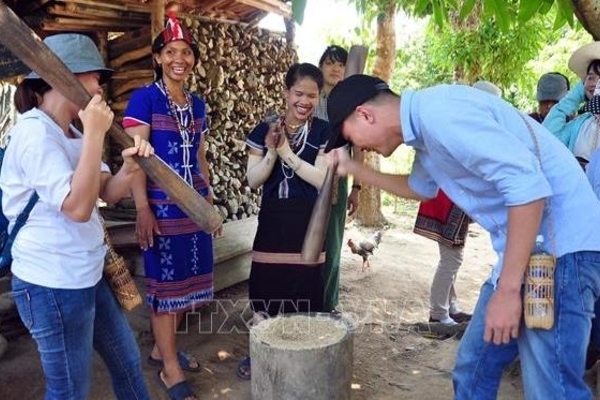 Tourists experience the rice pounding activities of Co Tu ethnic women in Vietnam.
Vietnam has been named as one of the attractive destinations for solo travel, which is opening up new opportunities for the domestic tourism sector to grow, stated experts during a series of seminars on the solo travel trend jointly held by the Ho Chi Minh City Department of Tourism and international units on September 6.
Specifically, TripAdvisor, the US-based well-known tourism website, has ranked Vietnam in third place among the top ten countries best for solo travel. The result is collected based on the voting and assessments of millions of travellers concerning the tourism activities and experiences which they have participated in.
In addition, it is forecast that by 2023 Vietnam will welcome more than 30 million arrivals of visitors and can possibly become a leading destination in the region.
According to Nguyen Thi Anh Hoa, Deputy Director of the HCM City Department of Tourism, the solo travel trend was first mentioned in 2009 and has now become a favourite taste of global tourists.
The organisation of a series of seminars on solo travel aims to update and provide solutions to access the trend for the units operating in the Vietnamese tourism sector. Also, through the seminars, some experts will bring new perspectives to management agencies, travel units, and businesses, thereby promoting a favourable business and investment environment to accompany and seize the opportunities from the solo travel trend, she said.
Paul Pruangkarn, Director of Communications & External Affairs at the Pacific Asia Travel Association (PATA), attributed the rapid growth of the solo travel trend partly to the development of the Fourth Industrial Revolution (Industry 4.0), which has created many apps and multifunctional tools effectively supporting solo travel globally.
Travel units and businesses should design strategies to advertise information and images to attract solo travelers and utilise opportunities from the trend, he said, suggesting that investors should promptly access and apply the 4.0 technology aiming to effectively exploit the solo travel potential in Vietnam, as well as making it easier for tourists to find destinations for solo travel.
HCM City determined to boost medical tourism
Ho Chi Minh City is seeing potential in developing medical tourism, however, there are still many shortcomings that the local authorities need to quickly deal with.
Besides inland waterway tourism or eco-tourism, Vietnam and HCM City, in particular, has huge potential for medical tourism. The number of international tourists that went to Vietnam for treatment increases year on year. In 2017, Vietnam attracted around 80,000 foreign tourists who came for health checks and treatment and spent USD2bn. In 2018, 300,000 foreigners went to Vietnam for treatment, of which 40% were in HCM City.
At the conference about medical tourism potential in HCM City that was held on September 4 by the Department of Tourism and Department of Health, many services and products have been introduced such as the use of traditional herbal medicine in cosmetic purposes and dental service package for tourists.
Infertility treatment and in vitro fertilization are considered cheaper than the prices in other regional countries at VND60m (USD2,600) to VND100m.
According to Saigontourist, Vietnam is still unable to fully exploit its medical potential and lacks many services. This is the best time to develop resort travel – healthcare – therapy model. Saigontourist has collaborated with Vietnam Dental Tourism Company to launch two dental packages for foreigners in the past two years.
The medical centres must also improve their services in order to attract visitors. According to the Department of Tourism, only 100,000 foreign patients come to Vietnam every year for dental services, spending about VND3.5trn (USD151m). This figure is still too small compared to the overall 13 million international visitors that arrive in Vietnam every year or to the huge dental tourism sectors in other countries like Thailand or Malaysia.
Nguoilaodong/Dtinews/Nhan Dan/Dan Viet