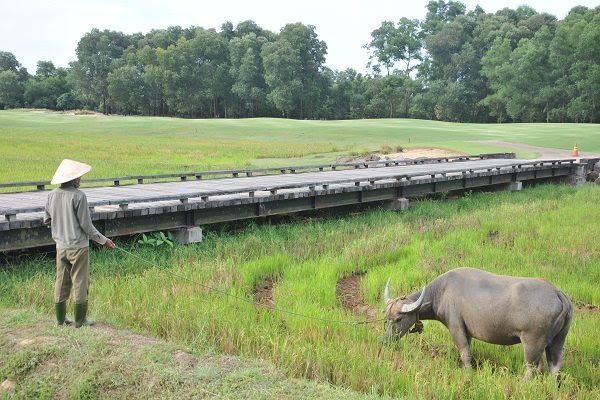 A section of Thua Thien-Hue-based Laguna Golf Lang Co, which was built near a paddy field. Many tour operators have proposed golf service providers offer various golfing packages at lower prices than the current ones
Speaking at a workshop on golf tourism held by the Vietnam National Administration of Tourism, participating tour operators said it is necessary to set up prices for golfing services geared for visitors on tours. The prices should be lower than those imposed on member golfers to encourage tourists to participate in golf tourism.
Meanwhile, some golf course operators said that golf is a game requiring high-level skills and golf service is a high-end product, so high prices for the service are reasonable.
Further, Nguyen The Dung, director of Hanoi-based Luxury Tour, said that compared with South Korea and Japan, charges for golf services in Vietnam remain low, so many tourists from these markets prefer playing golf in Vietnam.
However, Dung said that to increase the number of tourists playing golf, lowering golf service fees is necessary.
"I proposed that golf course operators offer a special golfing package geared for visitors who are not member golfers and do not follow the standards required for member golfers," Dung said.
Sharing this view, representatives of Saigontourist, Vietravel and Cosevco said that special, low priced golf packages should be offered to travel firms so that they can bring their customers to golf courses.
Phan Yen Ly from Saigontourist said that in the past, when only a few golf courses were available in Vietnam, travel firms were "pampered" when they were allowed to take their customers there.
However, over the past few years when the number of golf courses greatly increased, the operators of these golf courses have sought their own customers by establishing golf clubs and largely ignoring travel firms.
"If these golf course operators want to attract more tourists, prices of golf services should be lowered," Ly said.
Meanwhile, Marcus Giles, director of sales and marketing at Bana Hills Golf Club in Danang City, said that golf is a high-end product, so paying more for the service is appropriate.
Golf tourism in Danang City and the central region offer high potentials to attract tourists, he added.
Ton Nu Dieu Hien from Laguna Golf Lang Co in Thua Thien-Hue Province said that the firm is willing to offer various products and packages to tourists taken to golf courses by travel firms, but the services of golf courses have special characteristics. Therefore, it is hard to meet some of the requirements sought by tour operators, she said.
Also addressing the event, Nguyen Xuan Binh, deputy director of the Danang Tourism Department and vice chairman of the Vietnam Golf Association, said that with its great potential, the central region is expected to take in US$60-70 million in revenue from the golf tourism sector.