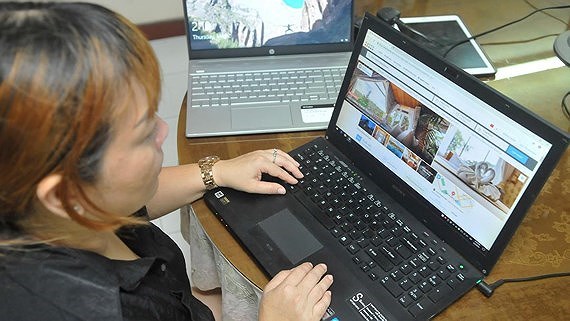 Ảnh:
For instance, in the last long national holiday, many young holiday-makers were exploring information on the internet or buy cheap ticket and rooms on websites such as Klook, Traveloka, Agoda, and Booking when obtaining tourist products and channels of services.
Ms. Nguyen Thi Mong Hao, a staff of an office in To Hien Thanh Street in District 10 said that online websites continuously have sent information of promotion and discount of air ticket and tours providing customers more options.
People can easily book services and pay by checks and receive feedback soon, she added. Moreover, people don't need to queue in entertainment entrance with e-voucher.
The International Cooperation Department under the Vietnam National Administration of Tourism quoted findings carried out by foreign independent companies that over 70 percent respondents have searched information about destination on internet while 64 percent of them chose the Internet to book and buy online services.
What is more, the rate of smartphones users in Vietnam is just 72 percent compared to the US but 48 percent of Vietnamese people use smartphone to search information of accommodation for their tours while just 18 percent of American use smartphones for this. 42 percent of Vietnamese tourists will find out information of destination whereas just 25 percent of their American peers do this.
Accordingly, online tourism potential in the world generally and in Vietnam particularly is very huge. Director of Lien Bang Tourism Company Tu Quy Thanh said that tourists have no longer bought traditional tours but booked online tours.
Moreover, tourists have preferred to "hunt" discounted tours as well as sift through information from stories of celebrities and travel bloggers for their trip and then they schedule the journey and book plane ticket and hotels by themselves.
Representatives of Klook and Traveloka said that 70 percent of customers aged from 18 to 34 use smartphones to book services. Competition between types of tourism business is obviously fierce at present offering more choices for customers.
Experiential and connected travel is increasingly becoming a trend of today. Travelers will listen and read stories shared by predecessors in internet forum, social networks on tourism. Most of travel agents of today sell both tours in internet and in office with various types of tours including package tours and independent or DIY travel.
Director Thanh said that the company ought to change continuously to grasp customers' trend especially young people's taste. The segment is quite potential but challenging to local travel agents because of financial limit to buy new technologies and legal frameworks.
Thuan Phong Tourism Company director Tran Kieu Vi said that travel agents select different channels such as fanpage, social network or media to advertise their products to attract customers.
Normally, young people prefer to use website to book room, two-round tickets and destination respectively but no ordinary package tours. Rivalry between traditional travel agents and their peers in internet is both threats but impetus to push up hotels, restaurant and agents to revamp their services.
Nevertheless, customers are warned of substandard tours. To avoid low-quality tours, they should take heed of meals, detailed itinerary and insurance.
Some local travel agents like Saigontourist, BenThanh Tourist, TST Tourist said that there has been a gradual increase in internet customers besides with customers booking ordinary tours in offices.
Saigontourist informed that its annual turnover reaches hundreds of billions of Vietnam dong. Marketing director of Tugo Travel agent Nguyen Duy Vi said that 100 percent of customers book online and 30 percent of customers use online payment.