Visitors to Dak Lak Province will get their first impression of the resources here by the presence of hundreds of coffee shops with different architectural designs, and boundless green coffee hills. Domestic or foreign visitors to Dak Lak are often informed by the local Central Highlanders: "If you haven't drunk Dak Lak coffee, it means you have not yet visited the location considered the capital of Vietnamese coffee."
Coffee growing has been a long term business in Dak Lak Province with varieties of coffee strains having been planted. These include arabica, robusta and liberica, of which robusta is the most popular. Many specialists have acknowledged that robusta fits well in the local climate and basaltic soil.
In recent years, Dak Lak coffee growers and traders have been well aware of improving the quality of coffee. They have paid attention to investing in the farms with the goal of sustainable development and in processing coffee beans with international standards.
There are now 30 State-run coffee businesses operating in Dak Lak Province. They have applied the technology of a wet coffee processing system, the world's most state-of-the-art technology at present, aimed at improving the coffee quality for export.
The Western Highlands Agro-Forestry Scientific and Technical Institute (WASI) has sorted coffee varieties by picking the clone varieties which yield high output and big beans. This meets the norms for export and the beans are resistant to the disease of Hemileia vastatrix Bet. Br.
According to WASI, the institute has carried out research and cross-bred and sorted successfully nine varieties of robusta coffee with a high output from 4.2 tonnes to 7 tonnes of beans per hectare.
This produces over 65% with a high quality, big bean of Grade 1, thus increasing competitiveness in the world market. WASI has also built nursing gardens to grow clone robusta strains, which have been approved by the Ministry of Agriculture and Rural Development.
Thanks to qualified coffee strains, the targeted coffee growing districts of Krong Pak, Krong Buk, Krong Nang, Ea H'Leo and Cu M'Gar have increased their coffee output, providing jobs and bringing a stable income for thousands of households.
Besides expanding activities to provide information to the farmers and businesses to improve harvests and apply advanced techniques to coffee production and processing, Dak Lak Province held coffee festivals and related events "Buon Ma Thuot Coffee Festival"  every 2 years.
To achieve this goal, Dak Lak Province will concentrate on developing high-quality coffee production and processing by upgrading comprehensively the coffee industry. They want to build a modern agricultural system ensuring a clean environment that is able to cope with climate change.
Famous Dak Lak coffee brands such as Trung Nguyen, Thang Loi and An Thai with their unique Vietnamese flavour have won the taste tests of many coffee lovers throughout the world. This has helped Dak Lak Province expand its consumption market and contribute to increasing the country's amount of coffee beans for export to over 1 million tonnes per year. Vietnam is ranked second among coffee exporters in the world, with robusta coffee being the most popular.
For many years, coffee trees have helped improve the life of the Ede ethnic people in Dak Lak in particular
and other ethnic groups in Tay Nguyen in general. Photo: Kim Phuong

A robusta garden in Dak Lak. Photo: Kim Phuong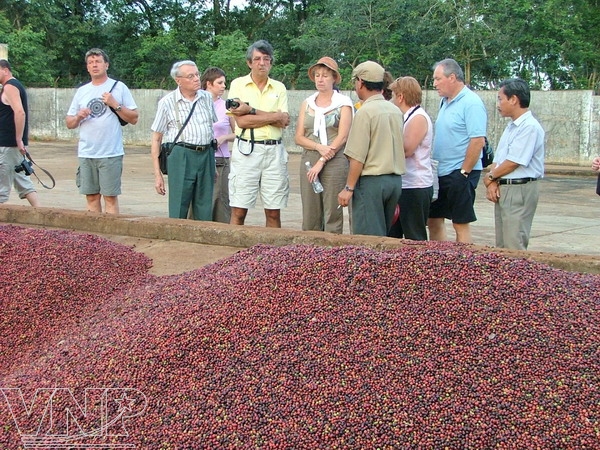 Foreign tourists visit a coffee farm in Dak Lak.

Harvesting coffee.

Drying coffee. Photo: Huu Thanh

Roasting coffee by machine. Photo: Kim Phuong

An automatic coffee packing line. Photo: Kim Phuong

Part of a packing workshop at Trung Nguyen Coffee Plant. Photo: Kim Phuong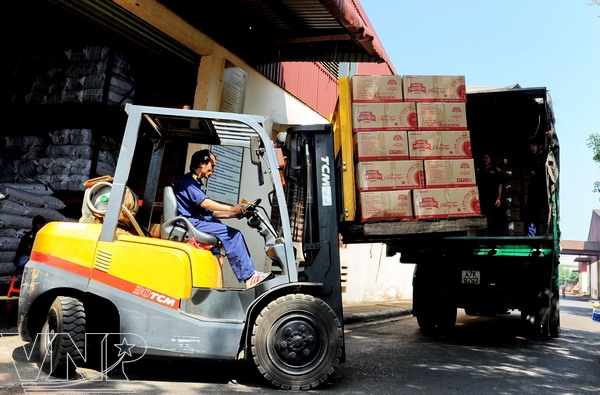 Loading coffee for shipping. Photo: Kim Phuong

Introducing Trung Nguyen coffee to a customer.

Creating new flavours.

Making filtered coffee. Photo: Huu Thanh

Dak Lak coffee is famous for its delicious taste and aroma.

Enjoying Dak Lak coffee together. Photo: Huu Thanh
VNP