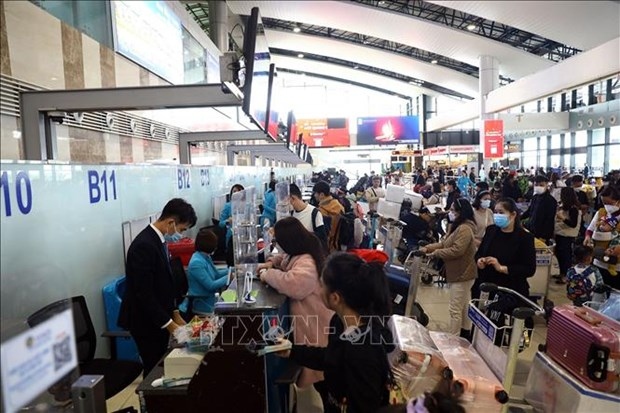 Of the total, the number of international passengers reached 2.3 million, a 10% rise month on month, while the number of domestic passengers was 7.5 million, an increase of 15% month on month.
Domestic airlines carried 4.85 million passengers, up 13.4% including 1.1 million international passengers and 3.75 million domestic ones.
About 112,000 tonnes of cargo were handled at the airports in the first month of 2023, up 11.6% compared to December 2022.
During the 7-day Lunar New Year (Tet) holiday, airports across the country served more than 1.9 million passengers, an increase of 58%, and more than 7,600 tonnes of cargo, down 11.6% compared to the same period of the Lunar New Year in 2022.
Particularly, Vietnamese airlines transported more than 967,000 passengers and 1,550 tonnes of cargo, an increase of 60.7% and 28.4% respectively compared to the same period last year.
Tan Son Nhat International Airport in Ho Chi Minh City saw 20,975 flights, an increase of about 26.5% over the same period in 2022, and 3,147,014 passengers, up 61%.
Noi Bai International Airport from January 19 to 29 (or the 28th day of the 12th lunar month to the 8th day of the first lunar month) saw 5,618 flights, an increase of 49% compared to the same period of last year. Nearly 900,000 passengers traversed the airport during the festive time, up 71%.
According to the CAAV, although the number of passengers increased during the Tet holiday, there were no congestions at airports, especially Noi Bai and Tan Son Nhat airports.
"Airports proactively prepared for the festive time and worked closely with airlines and ground service units to provide maximum support for passengers, especially large groups and last-minute guests," said the agency.