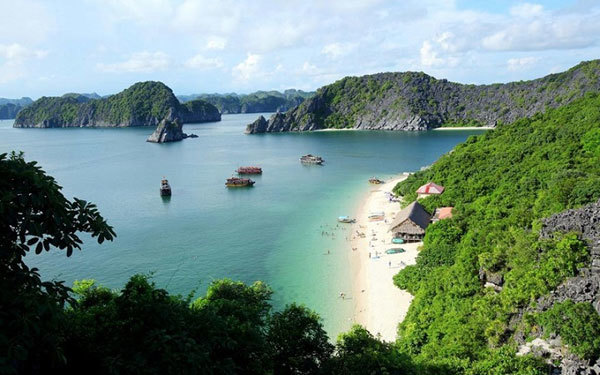 Many localities have cautiously resumed intra-provincial tourism activities. (Representational image)
After more than a month without recording any new community infections, from June 8, the northern province of Quang Ninh has allowed the resumption of selected types of business with the requirement of ensuring pandemic prevention and control in the new normal.
Taking advantage of the golden time of summer tourism, Quang Ninh is planning to exploit community-based tourism in combination with sea and island tourism, as well as to boost tourism stimulus in preparation for welcoming visitors from outside the province when conditions allow.
After Quang Ninh, the northern port city of Hai Phong has also allowed tourist areas and attractions to reopen from June 13, but only to serve those living and working in the locality.
In central cities and provinces, tourism activities are also gradually returning.
After 21 days without detecting new COVID-19 cases in the community, Da Nang has allowed beaches, restaurants and eateries to reopen from June 9, with restrictions on mass gatherings. However, the beaches are open at certain times, and people can only swim in the areas permitted and have to leave immediately after bathing. Freshwater bathing; gathering for entertainment, sports, eating and drinking, and vender services are prohibited at beach areas.
Quang Nam has also resumed tourism activities with prudence. Accordingly, the province has only reopened part of the Hoi An – Cu Lao Cham – My Son Sanctuary sight-seeing route.
According to the Quang Nam Provincial People's Committee, the pandemic has now been basically put under control in Hoi An, but the city has yet to consider reopening the Ancient Town. It will continue to monitor the COVID-19 situation and decide on the full reopening at an appropriate time.
Thua Thien-Hue has allowed historical and cultural relics, tourist attractions and scenic spots to reopen to intra-provincial travellers from June 11, ensuring pandemic prevention and control regulations, a minimum distance of one metre from each other, and a maximum of 50% serving capacity.
Previously, the People's Committee of Quang Binh Province approved the resumption of sightseeing, tourism and entertainment activities for intra-provincial visitors from May 29. Non-essential services have also been resumed at a scale of below 20 people.
Many local travel businesses have developed and deployed tours for local people, such as a tour to explore nature and camp overnight designed by Oxalis Adventure Company for groups of families.
Sea swimming has reopened in Tuy Hoa City, Phu Yen Province as of June 17, from 4-9am every day. People are only allowed to swim in the prescribed areas, and must not gather in large crowds, while recreation, sports, catering, and vendor activities are not permitted at beaches. People must keep a distance of at least one metre from each other, and must wear face masks before and after swimming.
In Hanoi, the tourism industry is also proactively looking for solutions to restore tourism. The municipal Department of Tourism has connected providers of tourism, aviation and railway services to implement a programme to upgrade tourism products and destinations, and build new, unique and attractive products to attract domestic visitors.
Many golf courses reopen with strict conditions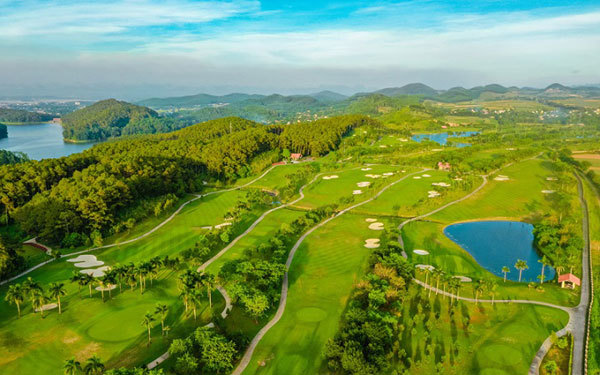 Many golf courses have reopened but only accepted intra-provincial visitors. (Photo: TrangAnGolfClub)
In order to continue effectively implementing the dual goal of pandemic fight and socio-economic development, as of June 14, a number of golf courses in some provinces and cities, such as Hai Phong, Quang Ninh, Ninh Binh, Hoa Binh, and Thanh Hoa, have been allowed to reopen.
However, most golf courses only accept intra-provincial visitors, and players from other localities need to show a COVID-19 vaccination certificate or a negative test result for COVID-19.
The People's Committees of localities all require golf course management units and visitors to the courses to strictly and fully implement COVID-19 prevention and control measures as prescribed.
Accordingly, visitors must fully comply with body temperature measurement, medical declaration, disinfection, and face mask wearing before entering the courses, while keeping a safe distance from each other during their play time.
Anti-pandemic solutions have been activated with many layers, including disinfecting the entire course area and trams every day; regular temperature measurement and medical declaration; strictly adhering to face mask wearing; and maintaining distance between customers. Public areas such as check-in sections and restaurants will mark the distancing position according to the Health Ministry's regulations.
In the context of the pandemic remaining complicated, despite having reopened some intra-provincial tourism activities, localities remain cautious and are strictly implementing and monitoring the observance of the Health Ministry's 5K regulations. In parallel with focusing on exploiting the intra-provincial tourism market, localities are also developing scenarios to welcome back tourists from outside the province when the pandemic is brought under control.