In mid-April, hotels and resorts in Da Nang, Phu Quoc, Phan Thiet and Ho Tram all recorded high demand for bookings for the April 30-May 1 holiday. Inner-city hotels recorded a good occupancy rate of over 75%, while coastal resorts had a higher rate with 80%, and even some resorts almost reached 100% during the holiday of April 30 -1/5.
According to the Da Nang Department of Tourism, during the holiday of April 30 to May 1, the total number of visitors and tourists in Da Nang was estimated at 74,000, down 42% compared to the previous plan. Major events and festivals in Da Nang were halted due to the complicated developments of the epidemic. The number of tourists staying at hotels and resorts in Da Nang during the holiday reached only 40,000, down 30% compared to the pre-holiday estimate.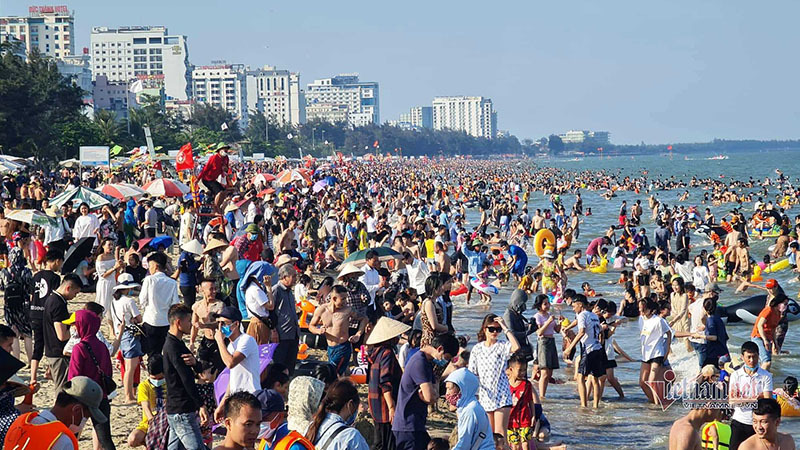 Tourists at the beach during the April 30-May 1 holiday. (Photo: VietNamNet)
According to the Airports Corporation of Vietnam (ACV), during the peak period from April 28 to May 2, Vietnamese airports served nearly 1.5 million passengers, an increase of 30% over the same period of 2019.
On April 29 alone, the number of passengers passing through Tan Son Nhat airport in HCM City reached more than 108,000, the highest in history. That shows that the demand for domestic tourism is huge. As international commercial flights have not yet been reconnected, domestic tourism is the focus of tourism development.
However, the new outbreak of Covid-19, which started in late April, hit the tourism industry when it was preparing for the peak season.
Tourist destinations that needed to be reached by air such as Da Nang and Nha Trang reported many canceled room bookings just before the holiday when information about the first infections was announced.
The impact on tourism activities of localities was also different. The provinces and cities that were mainly accessible by air were immediately affected when people limited air travel. Locations that are easily accessible after only a few hours of drive such as Ho Tram and Da Lat are expected to be less affected.
According to Google Destination Insights, as soon as the first cases of community transmission were confirmed, the demand for hotels in Da Nang as recorded on May 1 decreased by nearly 50% compared to April 26. The demand for flight searches also recorded a corresponding decrease.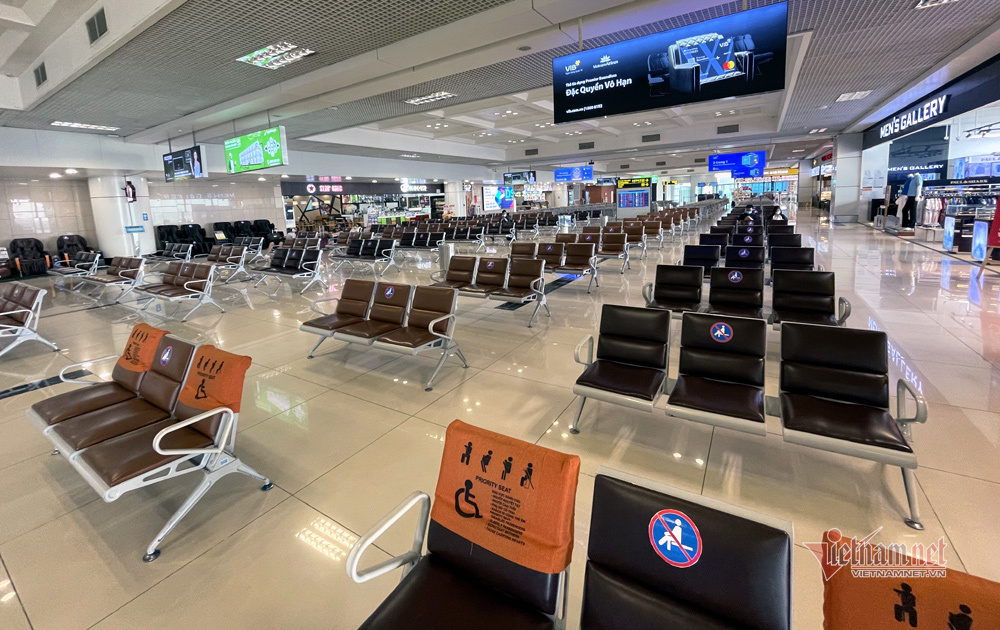 Hanoi's Noi Bai airport was deserted after the new outbreak of Covid-19. Photo: Ngoc Ha
Mr. Mauro Gasparotti, Director of Savills Hotels Asia Pacific, said that the market recorded many positive signals in recent months when demand for accommodation and conference services gradually recovered. However, the 4th wave of Covid-19 once again caused a heavy impact on the accommodation service industry, and some hotels even had to suspend some facilities.
Hotels and resorts received many requests to cancel room booking or change the date of stay. In addition, MICE activities and event business at hotels in Ho Chi Minh City and Hanoi were also affected, when conferences were postponed or canceled.
This was a blow on hotels as April and May are the peak season for conference activities.
Resorts also suffered the same impact when more than 50% or even up to nearly 80% for some resorts room bookings were cancelled. Some hotels decided to temporarily close until the outbreak is controlled.
Mr. Mauro Gasparotti said that the recent long holiday is proof that domestic tourists are the driving force for the recovery of the tourism industry.
In 2021, the tourism industry aims to serve 80 million domestic tourists, equivalent to the number of visitors in 2019, a growth of more than 42% compared to 2020.