The company will focus on packages from HCM City to green zones like tours to Can Gio (for 1-2 days), staycations; tours to Vung Tau and Tay Ninh; and tours to receive Vietnamese overseas at home or foreign experts to work in Vietnam.
Next month, the company will open road tours from HCM City to Phan Thiet, Nha Trang, Da Lat and Mekong Delta provinces.
The company's air travel will focus on Phu Quoc, Quy Nhon, Da Nang, Hue, Ha Long and Ha Giang, in which the company will host charter flights by Vietnam Airlines to create closed journeys to several destinations at low cost.
The company will also expand tours from Hanoi to northern provinces of Ninh Binh, Lao Cai, Ha Giang and Quang Ninh.
It has also offered 'Free & Easy' tours or combos of flight tickets and hotels at favourable prices.
Nguyen Nguyet Van Khanh, the company's deputy director of Marketing Department, told Việt Nam News that all the products offered after the fourth wave of the pandemic had been refreshed to meet various safety criteria for the new normal.
"Besides safe highlights dubbed "Green Journey – Enjoy in Safety", all the products are of high quality and at stable prices," she said.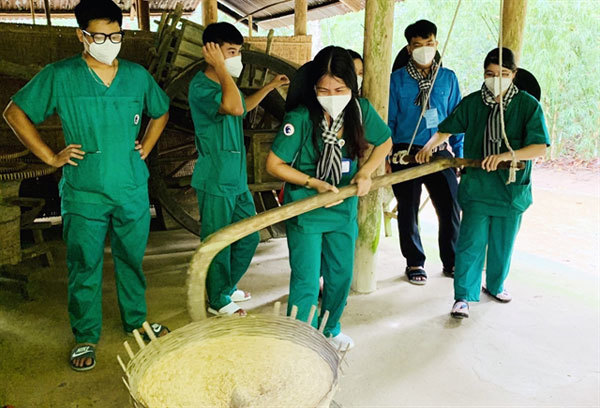 Visitors at a Cu Chi tourism site on a trial tour for frontline health workers in HCM City at the end of September. VNA/VNS Photo Quoc Khanh
Safe inter-regional tours
A closed tour from HCM City to suburban district of Cu Chi and the Ba Den Mountain tourism site in the southern province of Tay Ninh opened on October 16 as a trial model.
Phan Thi Thang, vice chairperson of HCM City's People's Committee, said this was the first inter-regional tour organised after the pandemic hit the city.
"The act shows the city's efforts in coordinating with 'green' regions to resume tourism."
Thang said that early next month, the city would reopen routes to other destinations in Tay Ninh Province.
"There will be a 'vegetarian culinary programme' as part of Tay Ninh's tourism to be inaugurated in the middle of the tenth lunar month (November 19)," she revealed.
On October 15, an official plan was issued to recover the tourism sector by 2022 with adjustments due to the pandemic situation, and targets to ensure safety for personnel, destinations and services.
For these targets, information technology will be applied to enhance the effectiveness of tourism activities and ensure customer safety.
The city's authorities will examine international potential markets to promote advertisements and cooperate with international media to prepare for the open door procedure in 2022.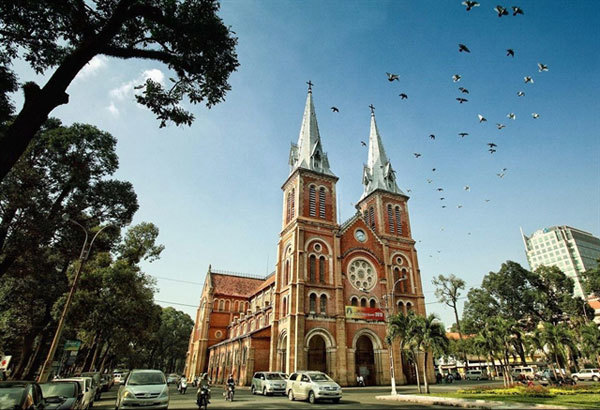 The Notre Dame Cathedral in downtown HCM City. File Photo
From early November to the end of the year, the city will expand accommodation services at hotels and increase hotel capacity to 70 per cent, and consider opening spa and dining services at hotels and resorts.
Thang said the city would offer more products including river cruises around the city.
"At this speed, the city will recover all activities and tourism services next year," she said.
Following the Government's guidelines, the central city of Da Nang will gradually receive both domestic and international tourists.
Truong Thi Hong Hanh, director of the city's Tourism Department, said the city would receive domestic visitors in the city or from other areas in the country for business trips from mid-October.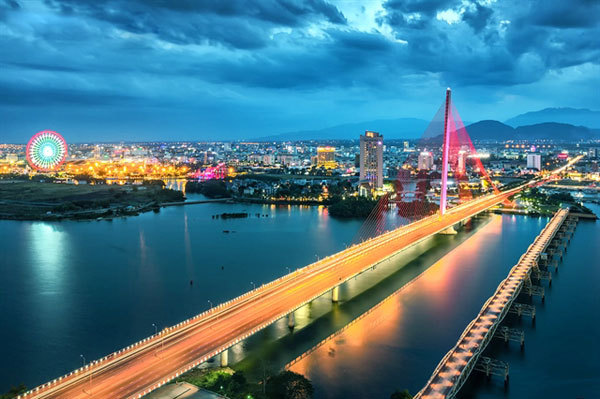 Downtown Da Nang by night. Photo phongnhaexplorer.com
In the second stage, the city will apply a "tourism bubble" to exchange visitors with some cities and provinces in which the pandemic is well-controlled.
The third stage will follow the Government's guidelines as per the new normal.
From November, the city plans to receive guests on business trips, and to visit the homeland in package tours. The city will apply a special passport policy for Russians and South Koreans.
"Ways to receive the above-mentioned guests will depend on the level of pandemic control for guests of low risk and medium risk," she said.
Some 11,000 tourism workers in the city have received their first shot of vaccine while tourism workers from other provinces who want to return to work in Da Nang will be helped to get injections.
Hanh said the city's Tourism Promotion Centre was carrying out an online survey for domestic visitors, which will help tourism workers to follow the situation to make proper adjustments in the new period.
The survey includes 15 questions on the time people make vacations, transport, expenses for trips, how to book services, favoured destinations, favourite dishes, trustworthy services, marketing policies and safety levels in the city.
Hanh said the city had been chosen as the host to the Routes Asia Forum 2022 in June, which would be an important chance to promote cooperation between the city and regional and international air route networks.
Green tours for capital
The Hanoi tourism authority said it had proposed local authorities open the door to tourism gradually in three steps, permitting hotels, destinations, travel agencies to resume their activities, mostly to serve locals in staycation tours themed "Hanoians travel around Hanoi."
"Setting up green tours is an important solution to draw visitors in the post-COVID period," she said.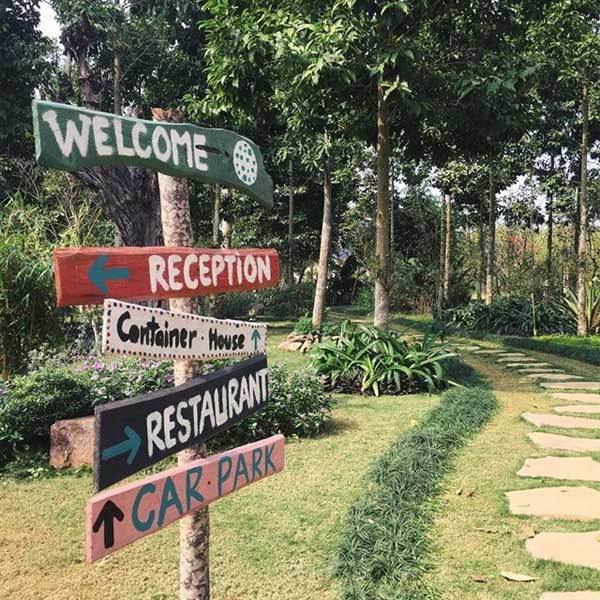 Mely Farm Homestay Ba Vi in Ba Vi District, some 50km to the west of Hanoi's centre. Photo timhomestay.vn
"The city tourism sector will focus on quality of service products, offering tours to heritage sites, and handicraft villages, as well as encourage enterprises to develop tourism combining healthcare services, and homestays on the outskirts districts of Ba Vi and Soc Son."
Nguyen Duc Anh, who runs a travel club and is the director of Vplus Vietnam, which specializes in team-building tourism, said some 15 per cent of total members of his club had operated as usual during the pandemic.
Some enterprises hosting quarantine tours will receive up to 200 flights of people attending events in Vietnam.
"I think if the tourism sector focuses on individual tourists or small groups, the role of travel agencies will not exist as individual tourists can book by themselves," he said.
"Hanoi is the biggest market in the north yet there are still some pandemic control checkpoints here and there. People cannot travel freely; tourism cannot always resume."
He said right in the first wave of the pandemic, people applied technology using online tourism service platforms.
"Now we have nearly 15,000 people using these platforms, who will join offline services when possible," he said.