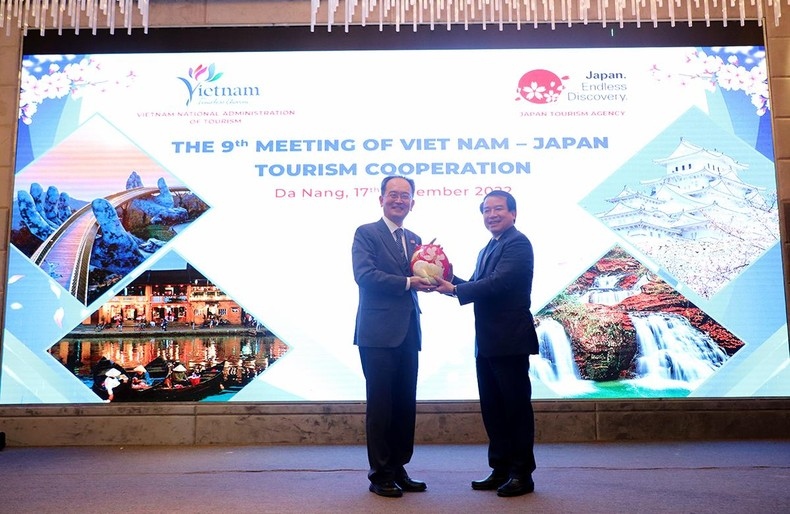 VNAT vice chairman Ha Van Sieu affirmed Japan is a potential tourism market for Vietnam, noting the number of Japanese holidaymakers choosing Vietnam as a destination has increased considerably after the country reopened its borders in the post-COVID period.
The opening ten months of this year saw around 120,000 Japanese citizens arrive in Vietnam, ranking fourth among international markets sending tourists to the country, he revealed.
He went on to say in 2018 Vietnam and Japan set a target of receiving 1.5 million arrivals from both markets by 2020, and the goal was beaten in 2019 when Vietnam welcomed one million Japanese tourists and Japan welcomed 500,000 Vietnamese arrivals.
Mitsuaki Hoshino, vice commissioner of the JTA, said immigration policy between the two sides has been facilitated, enabling their travel agencies to strengthen the exchange of tourists.
He suggested that the two sides attach importance to sustainable tourism cooperation, launch tourism promotion, and improve the overall quality of tourism products to meet the increasing demands of travelers.
Nguyen Xuan Binh, deputy head of Da Nang's Department of Tourism, proposed the two sides jointly establish an annual tourism development cooperation programme, with a specific focus on exchanging information, organising cultural exchanges and festivals, and holding other promotional events.
Both Vietnam and Japan are planning to hold numerous activities to celebrate 50 years of bilateral diplomacy in 2023, and this presents a good opportunity for the two countries to resume tourist exchanges to pre-pandemic level, he said.
Delegates to the ninth meeting discussed measures to strengthen tourism training, especially through support of ASEAN-Japan Centre (AJC), improve tourism products, and boost tourism ties with the support of the World Tourism Organization (WTO) and the Regional Support Office for Asia and the Pacific (RSOAP).
An action plan on Vietnam-Japan tourism cooperation for 2022 – 2024 was adopted at the meeting.
The 10th meeting of Vietnam-Japan tourism cooperation is scheduled to take place in Japan.